Sea Freight: Flourishes or forming a new bubble?
Last time: 07-11-2014 11:47:20 AM - Watched: 2884
Sea Freight: Flourishes or forming a new bubble?
Immediately after the crisis passed Marine, the world's shipbuilding industry received a series of orders to close the huge transport ship can accommodate tens of thousands of containers.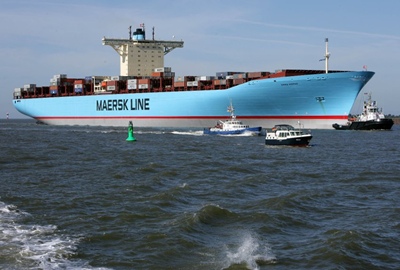 logistics
Container cargo ship Emma Maersk, the world's largest with a capacity of 14,770 containers
Danish shipbuilding industry has been reeling in crisis worldwide shipping. After nearly 100 years of existence, the shipyard Lind is expected to close in 2012. It was a severe shock to a maritime nation like Denmark because Lind workshop was the birthplace of a large container ship Emma Maersk world.
Fortunately, the wind had changed direction. Currently, in transport containers by sea, people no longer argue about closure of the factory, the cargo ship turned into scrap or bankruptcies in the industry as before. The sea carriers scrambling to put close the giant container ship, although there are still many super ship they placed close before launching ceremony here. Maersk back to break even
Group Maersk Sea transport urgently close the new cargo ship. A subsidiary of Maersk Group is currently Linie ordered 58 new vessels with a total carrying capacity of 373,754 containers are equivalent standards and 1/5 of the total capacity of 568 cargo ships that the company owns.
The statistics show that business strategy bold Maersk Group Chairman, Mr Nils Smedegaard Andersen, is wise. After losing nearly $ 1 billion last year, Maersk net profit of $ 1.2 billion to the second quarter of this year, with sales up 30% to $ 12.5 billion.
Only thing, the volume of containers shipped in 2010 would be equivalent to the level of 2008 and Maersk expects net profit of just over $ 4 billion this year. In the last month, officials of the Group expects net income of only $ 3.5 billion for the year 2010. Chairman Andersen said the gains on Maersk have enough money to invest to maintain all subsidiaries of the Group.
Competition
While Maersk seeks to protect the top of the table at any cost, the other major player in the maritime transport services also refused to stand by. Group waterways Swiss MSC currently heels Maersk and shipbuilding orders with a total capacity of up to 458 812 Container shipping standards. The ocean carrier CMA CGM of France also set to close more new transport ship with a total capacity of 329 773 Container shipping standards, while the shipping company COSCO of China also ordered more shipping vessels have total carrying capacity of up to 322,021 standard containers, up 60%.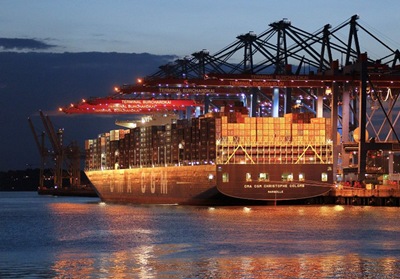 logistics
CMA CGM Christophe Colomb ships with a carrying capacity of 13,880 containers to "eat in" at ports And yet, ocean carriers Taiwan's Evergreen has caused a shock in the industry, at a time when the place closed 10 giant container ship. "Where was this glorious time"
One wonders whether the rapid development in a healthy and affordable there is a bubble appears again in the maritime transport services?
After the crisis, the largest ocean carriers realize a gain that market share is not all. At a time when world trade recovered, owning a fleet with a carrying capacity of moderate sometimes do business more effectively in the hands of a fleet overcapacity. Therefore, in addition to close more new Container transport ship, Maersk switch to "upgrade service priorities": carrier-class transport with affordable prices.
It is not clear growth in freight volumes are sustainable at present is only a temporary prosperity. One thing is clear that there are still many waves are stalking shipping industry. First, the economic recovery is quite choppy US and Europe are making shipping industry concerns.
Chairman Andersen was quite hesitant when asked about the long term prospects of the shipping service industry. His only hope for a revival among American consumers. This is a big unknown, the US economic recovery is slowing down and watch the American consumers save more, no status "peel short, bite-term" as before.